Order Eagle Chapter memorabilia! Click on the merchandise's image to see an enlarged size. Click on the "Contact Exchange Manager" button above to inquire about any item.
---
---
Proud Warrior Coin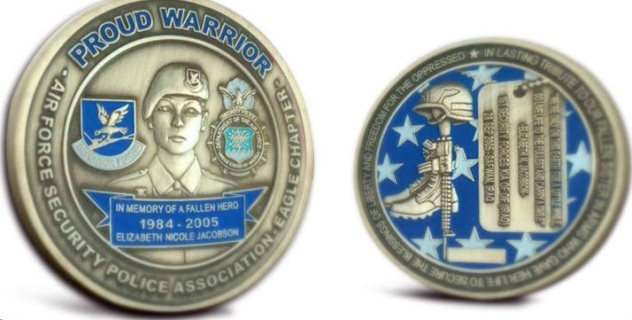 The Eagle Chapter Proud Warrior Coin aids in providing Eagle Chapter's response to combat-injured Security Forces Airmen who are medically evacuated to Walter Reed Bethesda Medical Center. By purchasing a coin (or chip see below) you assist the chapter in demonstrating that our support continues for these brave Airmen who for them the war will never end.

The cost includes shipping and handling charges.

The coin and chip include an image of the first US Air Force Security Forces Airman to be killed in action in Iraq, Airman First Class Elizabeth Nicole Jacobson. We designed this coin with input provided by Liz's paternal grandmother.

For more information about the Eagle Chapter Proud Warrior program, please click here.

For more Information about Airman Jacobson, click here.


---
Flags and flag sets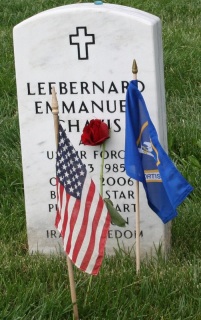 Defensor Fortis Memorial Flag - Utility size
This flag measures 12"x 8." This the flag that Eagle Chapter places on Security Forces Killed in Action, AFSFA member and spouse/family member graves at Arlington National Cemetery. The photo shows our placement of the Defensor Fortis flag on the Airman First Class Leebernard Chavis' gravesite during Memorial Day. Airman Chavis was killed in action in Iraq.

We also provide this flag for display in rucks or backpacks during Security Forces ruck marches. Click on photo for larger image.

---
Shirts

---

Chapter Coin, Global War on Terrorism Badge, Badge Bands, and Name Tag

Eagle Chapter Coin Product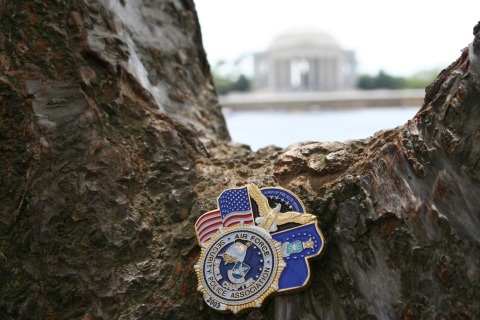 "Very good quality - It is easily the most beautiful coin in my collection!" an unsolicited buyer's comment.
This is the coin that we presented to the
Chief Master Sergeant of the Air Force
and other dignitaries on Memorial Day. You can obtain your coin by clicking on the "Add to Cart" button here.
Contact the
Exchange Manager
for quantity pricing. Click on photo to see a larger image.
Global War on Terrorism Commemorative Badge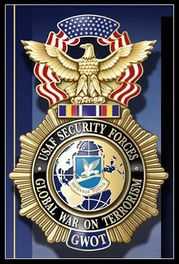 Click on image to see details and ordering instructions.
Each badge is individually numbered on the rear and - to keep the price low - must be ordered directly from the vendor. Click on the badge image, at left, for a large image and full details on the badge along with ordering instructions.

This is a great value.

$45.00 per badge and $9.50 shipping and handling. Again, please click on the image for details and ordering instructions.

---
Eagle Chapter Name Tag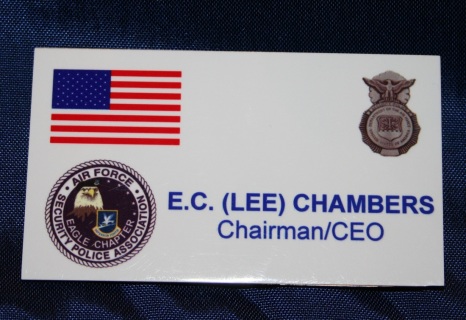 High quality plastic name tag with magnetic hardware on rear to affix name tag temporarily to the shirt, blouse or jacket without causing damage. Magnets are strong enough to hold badge through most garment types. Measuring 2" x 4" please indicate the name (and title, if required). Click on photo to see a larger image.

All tags will display with the "Eagle Chapter Air Force Security Forces Association" logo.