---
Eagle Chapter Air Force Security Forces Association is offering a special raffle event to celebrate the US Air Force Security Forces 20th Anniversary. See the details below about the weapon and also the rules. The raffle is one of four events. The other events are chapter luncheons held or planning to be held at Dover Air Force Base Delaware, Joint Base Langley Eustis Virginia, and The Pentagon Washington DC. See the Events page for more details on these other celebration events.

Tickets went on sale July 20, 2017. The raffle period ended October 10, 2017 at 2359/1159PM Eastern. See below for details.

---
The Tickets


The P320 - a Sig Sauer ~ Eagle Chapter Partnership


Our huge - "very bigly" ~ thanks to Sig Sauer for providing this weapon to Eagle Chapter to help us celebrate the US Air Force Security Forces 20th Anniversary.

As you may know, the US Army awarded SIG SAUER, Inc. for its New Modular Handgun System (MHS) with it's P320 military version. This is the replacement weapon for the Beretta 9MM firearm that our Security Forces Airmen carry today.

Here is an opportunity for the winner of our raffle to get to know this product in a different form. No matter how much we begged, Sig Sauer could not provide military version as it is not available to the public! :-)Click here to see the announcement of the Army's award to Sig Sauer.

The P320 9MM Nitron Carry Weapon


The P320 Carry offers a smooth, crisp trigger to make any shooter more accurate, an intuitive, 3-point takedown and unmatched modularity to fit any shooter and any situation. Its carry frame is ideal for target shooting and home defense, as well as some concealed carry scenarios. This modular, striker-fired pistol features a full-length grip, compact slide, and choice of contrast or SIGLITE Night Sights. Safety features include a striker safety, disconnect safety and optional manual safety.

Go to the Sig Sauer Website for more details on this weapon or see below for a quick overview.
---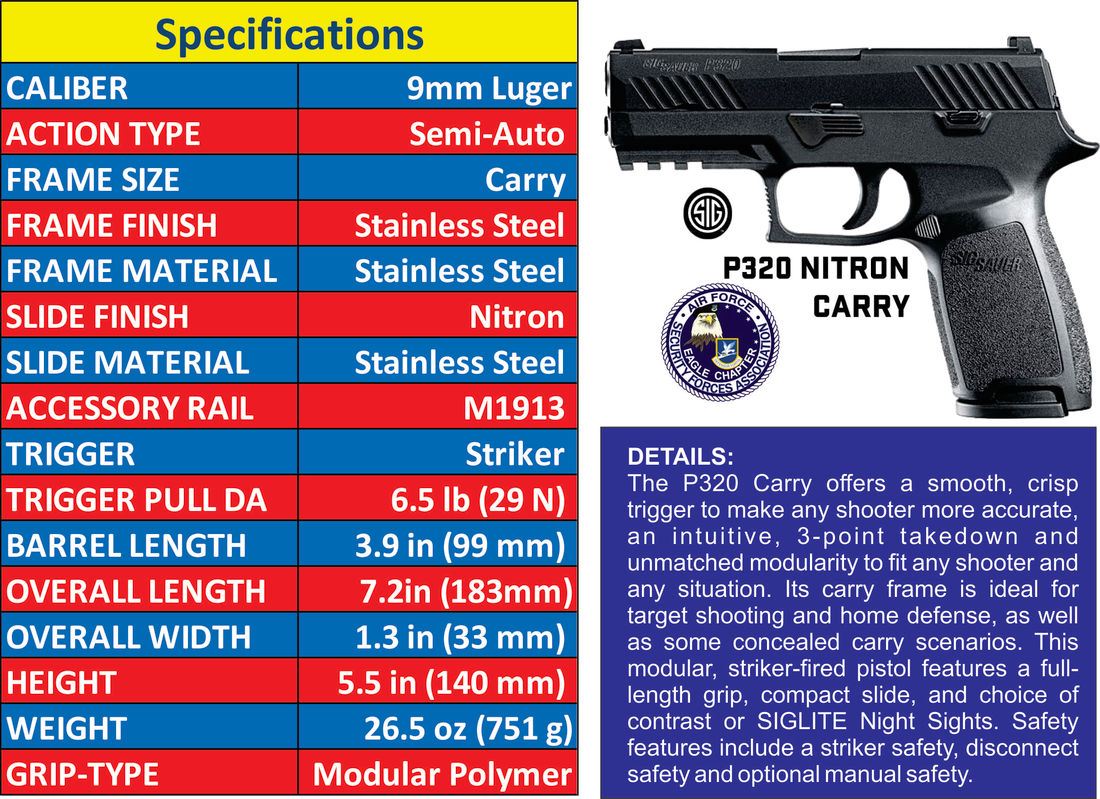 ---
Our celebration - our US Air Force Security Forces became to be as we know it today in October 1997. Today, we reflect on the leadership and the accomplishments of those 20 years.

Eagle Chapter Air Force Security Forces Association is celebrating this year, 2017, with free mementoes to all attendees at the Eagle Chapter luncheons at Dover, Langley and the Pentagon. The luncheons are free to Technical Sergeants (E-6) and below. We are also using this special raffle event to recognize the leadership that has steered the course of the career field with this banner that advertises the raffle plus displays the leadership through the 1997 and 2017 period. Congratulations - it has been my esteemed pleasure to know them all!!! signed Eagle Chapter Chairman, Elia C. (Lee) Chambers.

---