Unveiling - Piazza Gate Dedication. Above, May 15, 2014 (Police Day), Air Force Senior Master Sergeant (Retired) William "Pete" Piazza participates in the unveiling of the Defensor Fortis flag to reveal Piazza Gate 31 at Tinker Air Force Base Oklahoma.

72nd Air Base Wing dedicates Gate 31 - Piazza Gate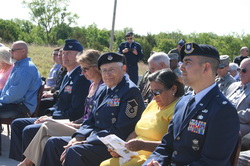 Prior to May 15, 2014, many attendees for the gate ceremony at Tinker Air Force Base only knew of SSgt Pete Piazza from page 23 of the Air Force Professional Development Guide (PDG) (Air Force Pamphlet 36-2241). On May 15, they got the chance to meet a living hero. The commander, Colonel Christopher Azzano, with the men and women of the 72d Air Base Wing at Tinker AFB OK celebrated Piazza's accomplishment yet again with the dedication of Piazza Gate 31. In the photo at left, Senior Master Sergeant (Retired) William Piazza smiles as he looks at the camera with his wife Gloria (in yellow) to his left. Sitting next to Gloria "Glo" is the commander of the 72d Security Forces Squadron, Lieutenant Colonel Frank N. Reyes. At Pete's right is Colonel Christopher P. Azzano, the wing commander, and his wife, to his left.

Also see the photos below. As one attendee told me, "We could not miss this chance to meet a hero from the PDG!"

Please see the official dedication program following the photos below.
---
---