Board of Officer Biographies
Come join our team! We have vacancy that will occur later in the spring. Daniela is transferring out of the area. We will need a Director of Airman and Family Programs. See details about this position lower on this page.
---
Elia C. (Lee) Chambers, a founding member of Eagle Chapter, in June 2003, Lee sent a letter to the 154 AF Security Forces Association members residing in DC, DE, MD, VA and WV to invite them to a meeting to form a chapter of the association. The following month, eleven members, 1 from Maryland, and 10 from Virgina, met to form Eagle Chapter at a restaurant in Woodbridge VA. The members present elected Lee as the first chairman, applied for a charter and on July 22, 2003, AF Security Forces Association charted Eagle Chapter. He has been unopposed and re-elected as chairman at the end of each term.

Elia (pronounced E - Lee) "Lee" retired from the U S Air Force after serving almost 25 years in April 1997. After receiving his draft notice from the selective service in the summer of 1972, he decided to join the Air Force. On August 1972, he enlisted as a Communications Specialist. After completing Officer Training School, he became a Security Police (now Security Forces) officer in May 1977. His assignments were: Barksdale Air Force Base (AFB) LA, Castle AFB CA, Bitburg AB Germany, Ankara Air Station Turkey, Camp New Amsterdam The Netherlands, Ramstein AB GE, Scott AFB IL, and The Pentagon Washington DC. Lee is married to Gail (a former Army officer). They have two sons, Michael and Daniel. Lee has a daughter, Camille (married to Jay), from a former marriage. He has one grandchild, Emily Vanessa. Lee's hobbies include marine reef aquatics, digital photography, web site administration, guitar and drums when he's not driving Daniel to his Taekwondo classes, music lessons, soccer games and practices, or swim classes. Since his retirement, Lee has worked as a systems security program manager or director for Communications Technologies, International Business Machines (IBM), U. S. House of Representatives and for the last twelve years, Computer Sciences Corporation (CSC).

He retired from the U. S. Air Force April 1, 1997 in the grade of Lieutenant Colonel. He is a Political Science graduate of North Carolina A & T State University and holds a Master Degree from Webster University in Computer Information System Resources Management. He is a graduate of the US Air Force Air War College and he holds certifications as a CISSP, CISM, and ITILv3 professional. He is also a member of the Air Force C4 Association and a life member of the Air Force Association.

---
Elijah "Eli" Garrett

became the chapter's fifth Eagle Chapter Treasurer and Chief Financial Officer in late September 2013. Eli brings a wealth of Security Forces experience both as an enlisted Airman and a Security Forces Officer. Currently retired and employed as a security consultant, Eli retired from the Air Force in the grade of Colonel where in his final assignment he served as the Deputy Director of Security Forces, Headquarters Air Combat Command at Joint Base Langley Eustis VA. More information is being developed to show his superior record of service to our nation and Airmen.

You can reach Eli by clicking here.
---
Karl James Blinkinsop

is the

Vice Chairman Air Force District of Washington Wing

. He currently supports the Secretary of the Air Force, Administrative Assistant, Security and Special Programs, Washington, D.C as a contractor. In this role, he is responsible for supporting the Enterprise Protection Risk Management (EPRM) program as a lead threat analyst providing a broad technical background to the Information Protection disciplines.

Karl (Major USAF Retired) has 20 years of military experience including law enforcement and security disciplines such as physical, personnel, information, and operations security. He has also served as the Provost Marshal at Special Operations Command (HQ USSOCOM), and as the Duty Director of Intelligence—Terrorism at the Northern Command. Major Blinkinsop took squadron command while serving as the operations officer at Wright Patterson AFB when his commander deployed to Afghanistan. He has had a highly successful background in many facets of police administration, threat assessments and anti-terrorism. Major Blinkinsop (ret) lives in Gainesville, VA and is married and he and his wife have two beautiful girls, four and ten years old.

You can reach Karl by clicking here.
---
Tom McGinty is the Vice Chairman, West Virginia Wing

, Eagle Chapter Air Force Security Forces Association. Tom retired from the Air Force as a Colonel where he served as the Director of Security Forces for Headquarters Air National Guard.

More bio is on the way.

You can contact Tom by clicking here

.
---
---
Joyce I. Bray is Secretary

, Eagle Chapter Air Force Security Forces Association. She is also on active duty and serves with the Command Support Section for the 436th Security Forces Squadron, Dover Air Force Base, Delaware. She is in charge of maintaining day to day operations of a four person Commander's Support Staff, supporting 280 active duty and civilians.

She entered the Air Force on July 24, 2007 in Indianapolis, Indiana. She graduated High School May 2007 and was eager to get started with her military career.

SSgt Bray was born in Fountain Valley, California. She graduated High School May 2007 and was eager to get started with her military career. She entered the Air Force on July 24, 2007 in Indianapolis, Indiana.

You can reach her by clicking here.
---
---
---

Jessica Wruck - Program Director.

The program director is responsible for luncheon and event set up and coordination of chapter events with the Air Force units that are located in DC, DE, MD, VA and WV. She is responsible for maintaining, renewing, and storage of the chapter's luncheon and event equipment. She is responsible for set-up of the equipment at luncheons. Formerly called the Sergeant at Arms, the Program Director coordinates with vendors and base agencies, as necessary, to arrange chapter events and support requirements. The program director may appoint a deputy program director to serve at specific locations.

Contact Jessica

by clicking here.

---

Mike Rusaw

is the

Vice Chairman Member Services Eagle Chapter AF Security Forces Association

. He entered active duty September 15, 1965 with the US Air Force Security Forces (Then known as Air Police, then Security Police). Served as a Security Specialist, Law Enforcement/ Corrections Supervisor, ATC Master Instructor at the Security Police Academy (Law Enforcement Specialists Course and as an Instructor in the Combat Skills Branch at Camp Bullis), and as a Security Police Superintendent. Awarded the USAF Outstanding Airman of the Year ribbon as the Pacific Air Forces Outstanding Senior NCO in 1980, and was awarded the Air Force Recognition Ribbon as the USAF Outstanding Senior Security Policeman of the Year. He was the first recipient of the Chief Master Sergeant of the Air Force Award as the USAF Outstanding Security Policeman of the Year. Retired on February 1st, 1986 as Director of Security, 1st Communications Group, USAF, the Pentagon.

Employed as a Senior Cybersecurity Program Manager with Leidos

in Reston Virginia providing professional security consulting to Federal

Government Departments and Commissions, State, Local Law Enforcement Agencies, and Critical Infrastructure elements.

Contact Mike by clicking here.
---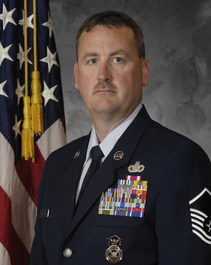 Eric Linneman
is the
Eagle Exchange Manager
, Eagle Chapter Air Force Security Forces Association. In this role, Eric is responsible for managing our memorabilia store.
Eric, a Master Sergeant US Air Force Retired, currently functions as a Law Enforcement Analyst for the Defense Logistics Agency. He is responsible for the policy and oversight of 400 DoD Police Officers at five DLA installations. In addition, he attends DoD level working groups, is assisting with a DoD level accreditation, the Law Enforcement Defense Data Exchange (D-DEx), eGuardian working group, and many internal programs such as the Inside Threat Program, Mission Assurance working group, and Security Counsel working group. Additionally, he is responsible for issuing and DLA police shields and credentials.
During his career on active duty, he held positions as an Elite Entry Controller, patrolman, Desk Sergeant, Investigator, Resource Protection/Antiterrorism Manager, Quality Control, Training Manager/Superintendent and finally as the Operations Superintendent at two different locations. Mr. Linneman deployed seven times during his career. He retired from active duty while serving as the Superintendent Training, Operations, and Standardization and Evaluations, 11th Security Forces Squadron, Bolling Air Force Base DC.
Give Eric a holler by clicking here.
---