Brigadier General Allen Jamerson Speaks at the Eagle Chapter 10th Anniversary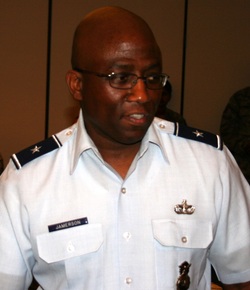 The general gave one of THE most inspirational speeches that has been given at any of our luncheons! He mixed with the crowd before, during and after the formal part of the program. So everyone had a chance to give the general their two cents and he gave us his. This was a very good day for our SF and Eagle Chapter. Our thanks to General Jamerson for his leadership and making our anniversary very special especially to those of us who attended.

The general addressed several key topics - Exciting Times Ahead - What these times mean to our SF - Professionalism (FLETA, LEOSA, and POST). He also spoke about the things he needs from the SF. They involve three key topics: Take care of each other - Take care of our stuff - be a positive strategic Airman.

He also told us what he needs from the AF Security Forces Association - Help the SF think outside the box. He used the badge balloting concept that we added to our luncheon as an example. We invited all attendees to vote for their favorite SF Shield design.

The best part of the luncheon though was the interaction between him and many of the junior Security Force members. You'll see this in many photos. He also recognized attendees who have been an inspiration to him as a young officer.

---
The general also congratulated the chapter on the achievement of our 10th anniversary. He specifically noted our support of the Security Force enterprise, unit operations, wounded warriors, telling the story and keeping our SF history alive.

Recognition - Catching Up

We had a bit of catching up with the general. Back in 2003, when we created Eagle Chapter's boundary, we identified all Air Force Security Forces Association members who lived in Washington DC, Delaware, Maryland, Virginia and West Virginia using the association's printed roster of members. In 2003, then Lt Colonel Jamerson was assigned to the National Reconnaissance Office which is located in Northern VA. As it turned out, the general's address was not depicted among the VA residents even though he was a member which I later discovered. So he missed all of the communications that we sent out to form the chapter and create some of our early events. We recognized this oversight and the chapter presented him an Eagle Chapter coin at the outset of his presentation. Following his presentation, we gave him a Proud Warrior Coin as a small tribute of our appreciation of his attendance and support for this event.

---
We created two documents for this luncheon: Our program of activities which shows the agenda and it also has our speaker's biography and a 10th Anniversary Flyer. The flyer is only 10 pages of photos of different activities that we've been involved in over the past 10 years. See the links below to take a look at these and contact us if you need more information.
10th Anniversary Eagle Chapter Program
10th Anniversary in photos