Eagle Chapter Luncheon - Joint Base langley Eustis Virginia - May 13, 2013



Our May Luncheon at Langley was our best yet!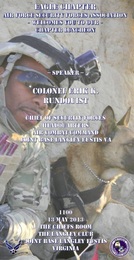 We were honored to have Col Erik K. Rundquist, Director of Security Forces, Headquarters Air Combat Command as our guest speaker.

Click on the program image at left to see the program including Col Rundquist's distinguished career.
Two very special guests accompanied Col Rundquist, his wife, Heidi, and the HQ ACC/A7 (his boss), Brigadier General Dave Howe. General Howe is the first A7 to attend a chapter luncheon. Thanks to General Howe and Heidi for coming out to attend our luncheon.
Captain Adam Morgan, 633 Security Forces Squadron Operations Officer, welcomed all attendees. He recognized Military Working Dog (MWD) Handler, Staff Sergeant Dontarie Russ and his MWD Uudensi (below) who were both in attendance at the luncheon. The program includes accomplishments of this team while deployed downrange. Click here or the image at left to view the program. Captain Morgan also spoke of the accomplishments of another MWD Team, SSgt Jonathan M. Bourgeois and MWD Oopie. Our thanks to the Major Juan Silva, Commander of the 633d Security Forces Squadron, and his folks for partnering with us to have our best luncheon at Langley to date.
---
Spouse Recognition

Another special guest for us was Mrs. Chiray Scott, the better half of Master Sergeant Justo Scott of Headquarters Air Combat Command. We are so thankful to have the support of our spouses. Eagle Chapter presented a chapter T Shirt to Mrs. Heidi Rundquist and Mrs. Chiray Scott, our two spouse attendees, as a token of our appreciation.

At left, Eagle Chapter Chairman recognizes Mrs. Scott.



---
A Tribute to Airman First Class leebernard Chavis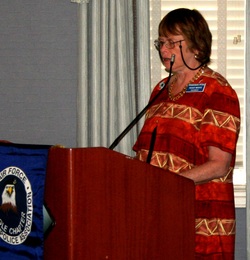 Ms Peggy Mertz, at left, President of the Phoebus High School PTSA, spoke of Airman Leebernard Chavis, who was a 2003 graduate from Phoebus High in Hampton VA. Airman Chavis was the fourth SF Airman to be killed in action in Iraq. She noted, Leebernard Chavis, called "Lee" by his friends and "Nard" by his family was a longtime member of the school's marching band and a member of the Marine Corp Junior ROTC. She said, he was the best of the best and the type of friend who would give you the shirt off of his back. He always had a smile and was a leader and take charge person. Ms Mertz also discussed the Airman Leebernard Chavis Scholarship fund that they have established in his honor.
---
Civilian Police Attendees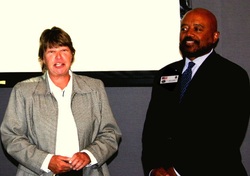 In the photo at left Eagle Chapter Chairman, Lee Chambers, presents a chapter coin to Master Police Detective Lorain Crain of the Newport News Police Department (PD). She was one of six local police officials that attended the Langley Luncheon. Other local PD attendees were Master Police Detective Lisa Uzzle, Master Police Detective Linda Gaddis, Master Police Detective William Dane, Master Police Detective Kerry O'Donnell all of Newport News PD, and Detective (Corporal) Jeff Lawrence of the Hampton PD. Eagle Chapter presented chapter coins to each as a token of our appreciation.


---
---