Above, the 436th Airlift Wing Honor Guard posts the colors at the Eagle Chapter luncheon at the Landings Club Dover Air Force Base Delaware. At right the Eagle Chapter State Flags - Virginia, Maryland, Delaware, West Virginia, and Washington DC - are stationed based on the membership size of each state, the Commonwealth, or the District on the date the chapter became chartered on July 2003.

The Dover 2014 Luncheon - one of our Best!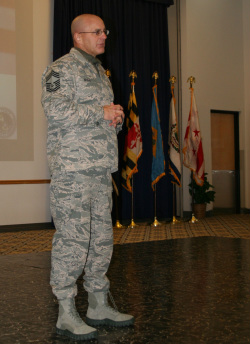 At left, Chief Master Sergeant Stephen K White, Headquarters US Air Force Security Forces Career Field Manager, speaks at the Eagle Chapter Luncheon.

Chief White spoke to the audience about late-breaking information about the structure of our US Air Force Security Force. The audience included present day security forces members as well as retired and previously serving Security Force, Security Police, and Air Police members from as far back as the 1970s - long before the Air Force Security Forces Association was created in 1986. It was great introducing these Airmen to a very interesting update on the career field as well as today's security forces Airmen.

An interesting side note - Chief White agreed to return to Dover next year to provide an impact discussion on the programs and changes as well as their affect. See you again next year!

The chapter program and photos will get you as close to attending a luncheon without actually being there! For more information and to attend, sponsor, or speak at a future Eagle Chapter luncheon, please click here to contact our chairman.
---