April 3, 2004 photo, Eagle Chapter Chairman, Lee Chambers (middle) visits with our first Proud Warrior Airman, Airman First Class Anthony Pizzifred (and his mom). Brigadier General James Shamess (at left), then the Headquarters US Air Force's top cop, and the Eagle Chapter Treasurer, Ed Lawton (front), visit with "Tony" while hospitalized at Walter Reed Medical Center. Tony lost his left leg just below the knee when he stepped on a landmine in Afghanistan.

---
Eagle Chapter Proud Warrior Program
Proud Warrior Program - We honor your sacrifice and celebrate your courage!


The Proud Warrior Program is the initiative created by Eagle Chapter in March 2004 to respond to assist combat-injured, Security Forces Airmen who were medically evacuated from Iraq, Afghanistan, or other war zones to Walter Reed Army Regional Medical Center then located in Washington DC. The chapter later expanded the program to include all US locations where a Security Forces Airman could be evacuated after falling seriously injured while in combat. The program provides $500.00 to the injured Airman that he or she may use as needed. In 2010, the
Headquarters Air Force Security Forces Association
assumed operation of the program as far as dispensing funds; but, Eagle Chapter continues to provide immediate and continuing support to all Security Forces Airman med-evaced from a combat zone to Walter Reed for as long as they remain as patients.
Eagle Chapter has provided direct support to 22 of the 24 Security Forces Airmen that have been medically evacuated to the US. These 22 are the ones that went directly to Walter Reed. The other two were sent to other facilities where the were served by another chapter or HQ AFSFA. The Eagle Chapter program remains the tip of the spear. We're the only operation that continues to service the Proud Warrior Airman throughout their rehabilitation period and into their retirement from the service. Any Security Forces Airman who feels that that qualify but have been missed can contact the
Chairman
to be served. All Security Forces Airman must be certified as having a war-related injury by the HQ US Air Force Director of Security Forces. Questions -
contact us
. We are eager to serve.
See the Eagle Proud Warrior Program enhancements shown below.
Our November Proud Warrior Lunch was Awesome!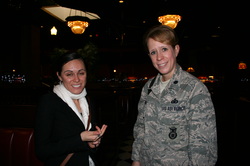 Eagle Member, Lieutenant Colonel Jennifer Aquinas, Commander of the 512th Security Forces Squadron at Dover Air Force Base Delaware accompanied us and it was unique. But don't just take my words for it. See below!
---
"Colonel Chambers, This was the best lunch so far!" - Airman MarieAnn Raguso

I must admit - having a commander's perspective is totally unique! We greatly appreciate Col Aquinas taking time out of her busy schedule to be with us. She also provided a great idea for our December Proud Warrior Lunch - She is hosting us at the Pentagon. We're totally looking forward to that!

---
September Proud Warrior Lunch Features an Outstanding Guest - One of the Air Force 12 Outstanding Airman of the Year!Master Sergeant Tessa Fontaine, one of the Air Force 12 Outstanding Airmen of the Year for 2013, joins the Eagle Chairman at a local restaurant in Bethesda Maryland to dine with Proud Warrior Airman First Class Matthew Zuniga and Airman MarieAnn Raguso. Michael Chambers, Lee's son, also attended.
Eagle Chapter's Vice Chairman, Air Force District of Washington Visits Raguso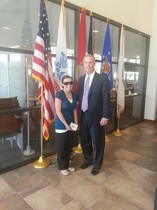 Most importantly, our Vice Chairman for the Air Force District of Washington, Stephen (Hutch) Hutchens, delivered the AF Security Forces Association's donation - $500.00 - along with other items to Airman Raguso as a small token of the association's appreciation for her sacrifice and patriotism in combat. We greatly honor her and all of our Proud Warrior Airmen's service.

Click on the image for a high res download.

---
Proud Warrior Airman Marieann Raguso enters care at Walter Reed Medical Center in Bethesda MD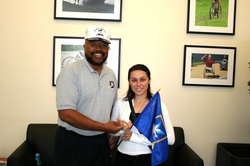 At our Eagle Chapter Luncheon on August 21, we learned from Brigadier General Allen Jamerson that Airman MarieAnn Raguso has entered care at Walter Reed. When we followed up with her a couple days later, we found that Airman Raguso was a driver of an MRAP vehicle that had encountered a tremendous IED that was buried under a paved road in Afghanistan.

Eagle Chairman, Lee Chambers, provided Airman Raguso Eagle Chapter gifts plus escorted her and her wingman, Airman First Class Michael Frisk to lunch at a local restaurant at the White Flint Mall in Bethesda MD.

Airman Raguso was the fourth woman since December 2007 that we have served to have been med-evaced to Walter Reed. She is also the most junior as an Airman (E2). Since she is a female Airman, we added Women's Memorial application and Women's Memorial memorabilia as chapter gifts. We are planning another trip to see Airman Raguso to give her the AFSFA check of $500.00.

---
Airman MarieAnn Raguso, and her wingman, A1C Michael Frisk, C Flight, 436th SFS Dover AFB DE join Eagle Chairman at the first Proud Warrior Lunch with Airman Raguso at a White Flint Mall restaurant in Bethesda MD August 23.
---
proud warrior airman first class Matthew zuniga undergoes care at walter reed medical center in Bethesda md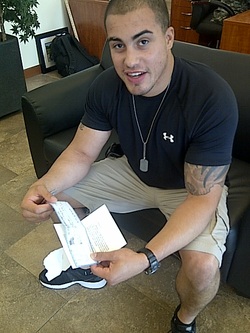 On July 30 2013, the Air Force medically evacuated Airman First Class Matthew Zuniga, assigned to the 105th Security Forces Squadron, Stewart (Air National Guard) New York, to Walter Reed due to injuries he experienced while deployed downrange. Airman Zuniga, while on patrol with other Security Forces Airmen, experienced an IED attack. There were no casualties and he was the most severely injured. His injuries placed him in ambulatory care at Walter Reed where he eagerly expects to be released in about 6 weeks.

At left, Airman Zuniga opens an envelope that contains a $500.00 donation from the Air Force Security Forces Association.

Other images of the Eagle Chapter's first visit with Airman Zuniga are shown below. Click on the images for high res downloads.


This kickboxer/MMA style athlete is looking forward to returning to the fight!.
---
---
---
the air force said, "yes" See the story of Brian and CArly below.
Staff Sergaant Brian Williams, injured by an improvised explosive device in Afghanistan since the Spring of 2012, is still undergoing care at Walter Reed. In late June 2013, Brian's dream came true when the outgoing Secretary of the Air Force, Honorable Michael B. Donley, said yes and approved his request.

The photos below show the transfer of Military Working Dog, Carly, to Brian in the Secretary's office at the Pentagon. Chapter update email list members will have details in a forthcoming email.


---
Photos of other Eagle Chapter Proud Warrior activities. Our goal is to respond to our combat injured Security Forces Airmen at Walter Reed.


She was the first - to adopt her military working dog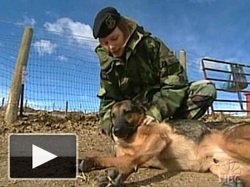 Technical Sergeant Jamie Dana asked the Air Force to approve her request for adoption of Rex who also was slightly injured while on patrol with her in Iraq. The Air Force was technically prevented from honoring Jamie's request by Title 10 US Code 2583.

At that time, law permitted military working dogs to be released but only after they are no longer useful to the Department of Defense. Then the Air Force's Top Cop, HQ USAF Director of Security Forces, Brigadier General Robert Holmes and several lawmakers supported her to change the law. Both houses of congress approved the legislation which was signed into law on December 28, 2005 by President George W. Bush. Today, Air Force policy with the approval of the Secretary of the Air Force permits service members to adopt their military working dog under certain circumstances.

Click on the image above to see an NBC news video of Jamie's plight to adopt Rex.

---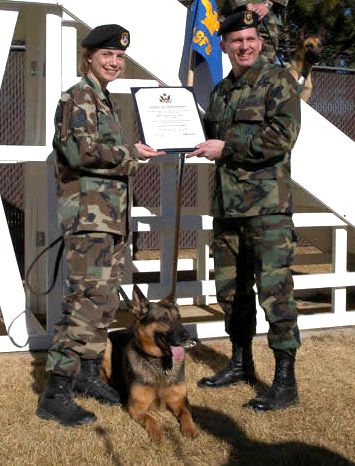 In the photo above, the Air Force provided Rex an early retirement and permitted him to accompany TSgt Dana into civilian life. Photo shows retirement and adoption ceremony at Petersen Air Force Base Colorado. TSgt Dana received a certificate of adoption and a certificate of retirement for Rex. Both signed by the Secretary of the Air Force, Honorable Michael Wynne, and the Air Force Chief of Staff, General T. Michael Moseley. Her squadron commander, Major Paul Cairney, presented both certificates in ceremonies at Peterson AFB Colorado.
He Was Next - Staff Sergeant Brian Williams patiently Awaited Secretary Donley's Decision on his request to adopt Carly while healing at Walter Reed
Click to view YouTube Video
Photo depicts Brian with Military Working Dog Carly prior to the explosion. Brian and Carly are awaiting Secretary of the Air Force Honorable Michael D. Donley's decision to allow the military working dog to retire and accompany Brian. Gaining the approval of the Air Force Chief of Staff, General Mark A Welsh III and his chain of command, the package arrived at Secretary Donley's desk in May 2013.

Click on the image to view an Air Force Broadcasting Service video of Brian's will to win.
---
---
The Eagle Chapter Chairman monthly Lunch with hospitalized airmen at Walter Reed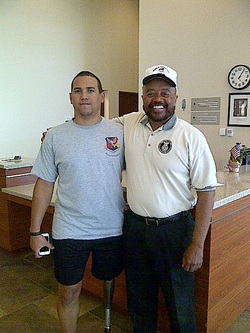 Photo depicts the Eagle Chapter Chairman, Lee Chambers (at right), with Proud Warrior Staff Sergeant Brian Williams as they conclude their lunch on June 10, 2013. Due to the lengthy stay at Walter Reed, Eagle Chapter started the program to visit with combat-injured Security Forces Airmen who remain at Walter Reed during Brian's stay at the new Wounded Warrior Dormitory adjacent to the Walter Reed Military Hospital.
---
---
Eagle Chapter Proud Warrior Program Enhancements

While HQ AFSFA operates the Proud Warrior Program, Eagle Chapter continues to aid all Security Forces Airmen who are mediclaly evacuated to
Walter Reed Bethesda National Military Center
from a combat zone. The Eagle Chapter enhancements to the Proud Warrior Program include the following:

~ Free Monthly Lunch. While the Airman is hospitalized or receiving care at Walter Reed, the Eagle Chapter Chairman visits with the Airman and provides lunchtime meal of the Airman's choosing at a location when he/she becomes ambulatory.
~ Eagle Chapter's Talon Care Package.
- Eagle Chapter T Shirt
- Get Well Card
- Defensor Fortis flag
- Eagle Chapter Coin and Coin Rack
~ Lifetime Membership in Eagle Chapter
~ Lifetime free admittance to Eagle Chapter luncheons (with one attendant) as the Chairman's guest(s) of honor
~ One Year Membership in the Air Force Security Forces Association

We are delighted to respond to the aid of our critically-injured Security Forces Airmen! The images above capture some of the Airmen that we have been eager to have served and continue to serve.

Be a part of our support by donating. Click on the "Donate" button shown below to make your secure donation via Paypal. Additionally, Proud Warrior Airmen can send updated information or requests to us at any time. We look forward to hearing from you.

You can also support this program by buying a Proud Warrior coin or chip. Click here for more information.