Global War on Terrorism (GWOT) Badge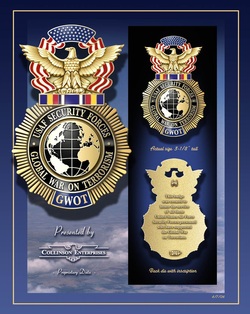 For us, the global war on terrorism rages on and our Air Force Security Forces Airmen play a huge role. Eagle Chapter is sponsoring the GWOT Badge to commemorate our brave, heroric, Security Forces warriors who are and have been engaged in the Global War on Terrorism.

The GWOT Badge represents participation in military operations on the Global War on Terrorism. The ribbon depicts the service medal awarded for GWOT service.

The GWOT Badge is made of the highest quality die - struck from steel dies in .102" solid brass, and finished in 24k pure gold with multiple colors stoned and polished to the level of the raised details.


Click on the image showing the front and back of the badge to see a large view. Each badge is dipped with safety pin and catch, individually numbered and hallmarked on the back. Eagle Chapter presented badge number 001 and 002 to the then Headquarters US Air Force Director of Security Forces, Brigadier General Mary Kay Hertog, and the then career field manager, Chief Master Sergeant Bruce Broder. See presentation in photos below the order form.

To order your badge directly from the manufacturer, print the document below, fill it out and send it to the address shown. We have not changed the price on this badge since it was originally created in 2007. Whether you order 1 badge or a dozen, the shipping and handling price are the same - a great value!


---
GWOT Badge Presentations
In the photos (top row, left and center) below, Eagle Chapter Chairman, Lee Chambers, presents Badge Number 001 to then Brig General Mary Kay Hertog and Badge Number 002 to Chief Master Sergeant Bruce Broder, Headquarters US Air Force Director of Security Forces and the Security Forces Career Field manager, respectively. Also shown in the Broder photo are (at left) Jack Brokaw, then President of AF Security Forces Association and Jerry Bullock, Executive Director. Eagle Chapter presented these badges during the 20th Anniversary of the Air Force Security Forces Association which Eagle Chapter hosted in Washington DC in 2006. In the photo at top row, right, Space Coast Chapter Chairman, Ted Whitlock (at right) and Space Coast Chapter Member, Ed Garcia (at left), present GWOT badge number 003 to the first GWOT SFKIA, Airman Elizabeth Jacobson's paternal grandparents, Cos and Sondra (center). In the bottom row, Eagle Chapter Treasurer, Jim Saulnier, joins Lee in the presentation of the GWOT Badge number 004 to the Chavis parents, Jackie and Michael. Their son, Leebernard, was the fourth Security Forces Airman to be killed in action in Iraq.

You can order your badge by printing and filling out the order form above.

---
Eagle Chapter is a 501(c)(19) Veterans Service Non-profit organization
Click on the "Donate" button below to help support our programs.
---